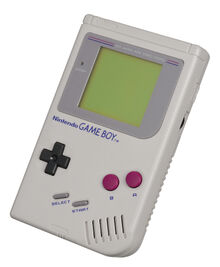 The Game Boy (Japanese: ゲームボーイ Hepburn: Gēmu Bōi?) is an 8-bit handheld video game device developed and manufactured by Nintendo. It was released in Japan on April 21, 1989, in North America on July 31, 1989, and in Europe on September 28, 1990. It is the first handheld console in the Game Boy line, and was created by Gunpei Yokoiand Nintendo Research & Development 1—the same staff who had designed the Game & Watch series as well as several popular games for the Nintendo Entertainment System.[7] Redesigned versions were released in 1996 and 1998, in the form of Game Boy Pocket, and Game Boy Light(Japan only), respectively.
The Game Boy is Nintendo's second handheld system following the Game & Watch series introduced in 1980, and it combined features from both the Nintendo Entertainment System and Game & Watch.[7] It was originally bundled with the puzzle game Tetris.[8]
During its early lifetime the Game Boy mainly competed with Sega's Game Gear, Atari's Lynx, and NEC's TurboExpress. The Game Boy beat its rivals and became a tremendous success.[9] The Game Boy and its successor, the Game Boy Color,[6] have both combined sold 118.69 million units worldwide. Upon its release in the United States, it sold its entire shipment of one million units within a few weeks.[10]
List of Pixar Video Games
Edit
Toy Story